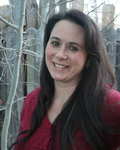 I am a private practice therapist in Casper, Wyoming. I enjoying assisting individuals in reaching their mental health goals and promoting overall well being through education.
I have worked with adolescents in a variety of capacities for 10 years. I wanted to change the nature in how I worked with individuals within the community and began the journey to become a mental health counselor. I utilize both Cognitive Behavioral Therapy (CBT) and Eye Movement Desensitization and Reprocessing (EMDR) primarily in my sessions to address mental health issues.
Education & Credentials
I received a Bachelor's of Art in Psychology in 2008 from the University of Wyoming.
I completed the Master's of Mental Health Counseling from Walden University in 2015.
I currently hold a license from the State of Wyoming as a Licensed Professional Counselor.